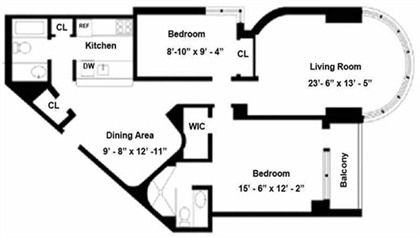 The language used by some real estate brokers to describe apartments in and around New York City is arcane and often fuzzy. Legal definitions and requirements that govern the various types of rooms in New York City's apartments by Real Estate Board of New York.
A junior one is almost always an L-shaped studio that can be partitioned off so that part of it becomes a small bedroom. A junior four can be a one-bedroom unit with an L-shaped living room or a small den or alcove.
People can be confused by the difference between a ''loft apartment'' and a ''loft area'' within an apartment. The former, is usually considered to be a large, open space in a current or former commercial or industrial building that has been converted to residential use. The latter, however, is something that might be found in even the smallest studio apartments.
A studio apartment is one room with combined living room and sleeping area, separate or Pullman kitchen, bath.
A Pullman kitchen is a kitchen that has all of its appliances installed along one wall. Sometimes it's just an open space and sometimes the appliances are closed off behind folding doors.
While some rooms may or may not be included in an apartment's ''room count'', kitchens typically are, but bathrooms generally are not.
A broker should not be quoting anything that isn't in the original offering plan or prospectus. Those documents can be found when a building is converted to or constructed as a co-op or condominium.
Some brokers take too much license when talking about the number of rooms in an apartment. One broker on TV referred to a Murphy bed as a bedroom. A Murphy bed is absolutely NOT a bedroom.
If a wall constructed by a prior owner was built without the necessary approvals, it is possible that a new owner could be forced to remove the wall if the wall is illegal or a violation of the house rules or proprietary lease.
What is a "room"?
(Source: NYC Administrative Code §§ 27-750, -751, -2058)
• Size requirements: Generally, a room must have minimum dimensions of 8 feet x 8 feet x 8 feet, and must have a minimum floor area of 80 square feet. A room which opens into an adjoining room may have a minimum floor area of seventy square feet and a minimum horizontal dimension of seven feet. Other exceptions apply to bedrooms and dining rooms (see those definitions).
• Lighting requirements: Every room must have at least one window that opens onto a street, yard, or court on the same lot. The total area of the windows in the room must at least be one-tenth the floor area of the room. Every part of every room in non-fireproof buildings must be within 30 feet of either a court, or a window opening to a street or yard. Dwelling with three rooms or fewer in fireproof buildings must comply with this requirement as well.
• Usage requirements: The following are rooms: bedrooms, living rooms, studies, kitchens.
The following are not rooms: closets, halls, stairs, laundry rooms, bathrooms, foyers, dining spaces.
What is a "bedroom"?
(Source: NYC Administrative Code § 27-2004, -2076, -2058; MDL § 1-4-18)
• Definition: A bedroom is a living room used for sleeping purposes.